Bratislava
Ever heard that unkind joke that the best thing to do in Bratislava is head straight off to Vienna? Not true any more. The Slovak capital has enough to offer for a very brut-brut weekend.
Confession: I've seen a lot of funeral architecture. Much of it pretty good. This one is battling for the top rank (with Brioni tomb by Carlo Scarpa in Northern Italy, but that's another story). Modernist icon in Scandinavian style (1962 - 68, Ferdinand Milucky) soothingly floats on a soft slope of Male Karpaty in the city outskirts and shows best how architecture can work with human emotions. Purity, calm, respect to grief, interplays of light and dark; its distinct concrete volumes appear almost ethereal.
Strict brutalist structure (1974, Stefan Svetko) you won't miss from afar, as it rectangularly overlooks the motorway Bratislava - Prague from atop a (very windy) hill. The hotel is mainly used for official governmental purposes and guarded (not a surprise given the proximity of castle and classy embassy / residential Slavin neigbourhood). Albeit by a guard who encouraged us to stay longer and take more pictures. Not as fun as the Radio building built by the same architect, but great view and lovely weirdness.
#concreteutopia role model: flying saucer on a high-tech suspension bridge over the Danube (1967-72, Arpad Tesar, Jozef Lacko, Ivan Slamen). One of its pylons nests an elevator to the upstairs UFO restaurant and observation deck, but the best view of Petrzalka is served from the bathroom; this fact alone is well worth the entrance fee.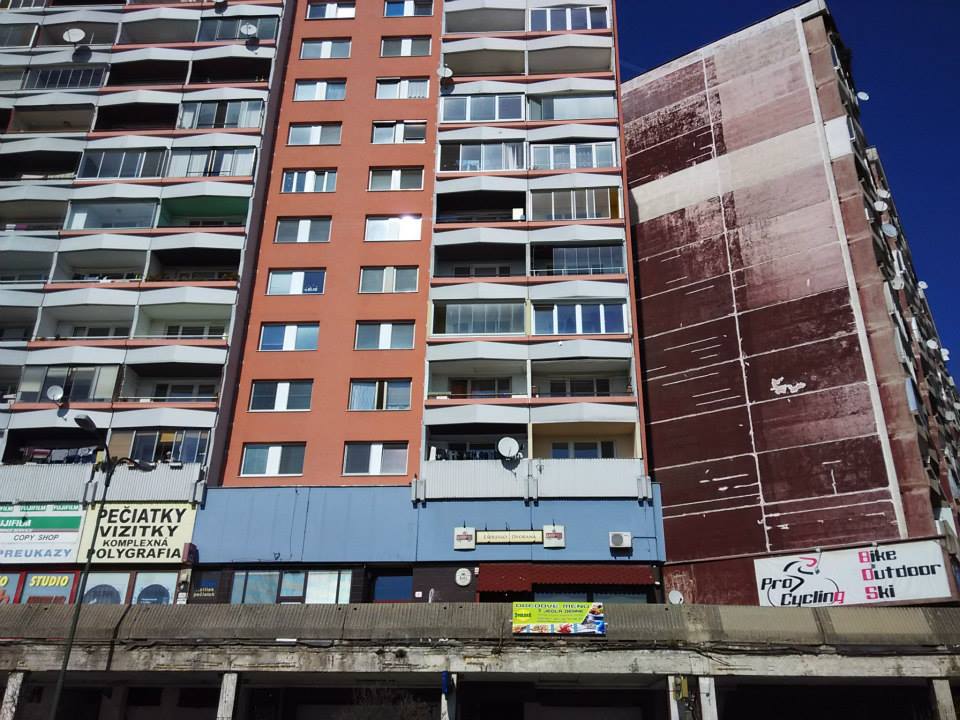 Oh yes, Petrzalka, my childhood holiday realm. Huge panel buildings, lake in between, dead branch of the Danube river with leeches in it. Chillin' with other panelstory kids on the dustbin shed, climbing up the trees, feeding mainly on watermelons (huge, ubiquitous and cheap) for most of the 2 hot summer months. Probably won't get the same kick out of it without this particular family anamnesis, but this enormous housing estate built since 1970's on a former agricultural land south of the center is still well worth the stroll. Get this cool guide of hidden gems (Slovak only) for an extra immersion. Picture by Andre Mihardja